Lighthouse Adventures 2014
Preparing for our house lift began last summer. We had to remove forty dead shrubs and trees, our front fence, decorative stones, our porch and rear deck. Wolfe House Movers lifted our home from the old foundation. Our mason removed the old footings, put in new footings, block walls and a floor. Our carpenter built us two decks now with 15 stairs each. For months our yard was a construction site. Tons more work was done and I painted with 30 gallons of paint. Next spring we'll finally be able to landscape again. Yippie.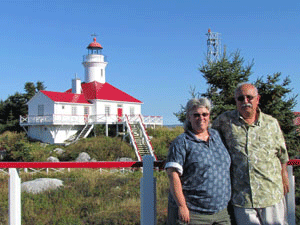 Starting near Montreal, Quebec our vacation was spent on or around the St. Lawrence River. After a few days we were joined by our new friends. We covered both sides of the river by car and boat while working our way northeast. Between all the boats and ferries we motored 146 miles. We photographed 94 new lighthouses. Only one light on the Gaspe Peninsula was new to us, we saw 14 repeats. We climbed four lights; Brandy Pot, Matane, Cap d'Espoir, and La Martre. We drove 4,364 miles on this much needed exciting trip.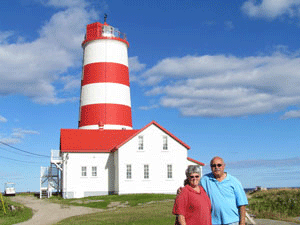 All photos contained in this site, © Copyright 1997- by The Lighthouse Hunters - Christine & Tom Cardaci.
Images and text may not be used from this website without written permission. Contact Us for more information.

Hosted By