Lighthouse Adventures 2009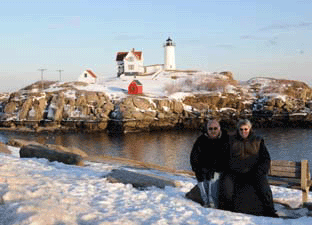 Before Tommy's knee replacement surgery in late January we decided to take a 2½ day trip up north to Maine. For years we've always wanted to see Portland Head, Cape Neddick and some other lighthouses with snow. We dressed in several layers because it was minus 11° with the wind chill. We enjoyed the beautiful winter scenery. Before coming home to New Jersey, we stopped off in New Hampshire and Massachusetts to see a few more easily accessible snowy lighthouses. What a lot of fun!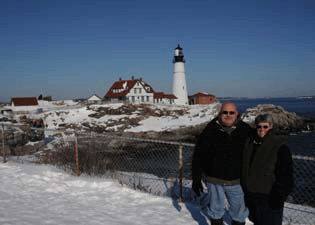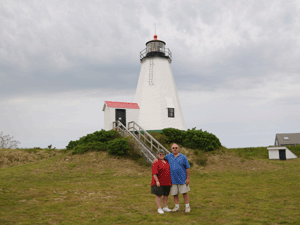 For five great weekends in a row we drove to a few New England states for several boat trips and an open house at Gurnet. We were lucky everything worked out smoothly. The timing was perfect for the feeding of dozens of humpback whales while on a cruise in MA. We got up close to dozens of repeat lighthouses, saw a few new ones and even climbed two. We met many new friends by boating with the newest group we joined, NELL, New England Lighthouse Lovers.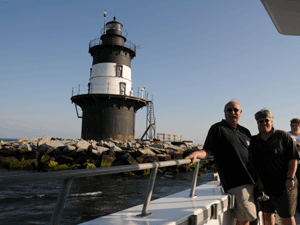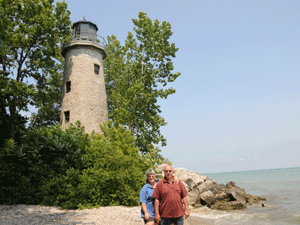 The very tight scheduled twenty-one day trip to the Great Lakes in the summer was fantastic. We were on twenty boats and ferries and crossed the USA-Canadian border six times. The waters of the Great Lakes can turn nasty as we found out one day in while on a boat in the Upper Peninsula. We saw 21 new lights and improved on 104 repeats during the 5,858 mile drive. We enjoyed our adventurous explorations while in Upper and Lower Michigan, Wisconsin, Minnesota, and Ontario, Canada. A well planned exciting trip.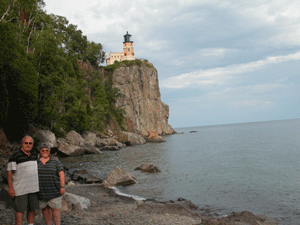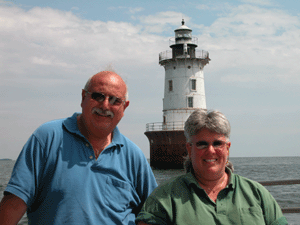 A weekend in August we traveled to MD-VA for a 2 day boat trip in the Chesapeake Bay. A week later we were back in the Great Lakes for a 4 day GLLKA cruise. What a great experience! After that we had 6 more boat charters and day cruises while in Michigan and Wisconsin. It was great to see 16 new lights and 47 repeats. We drove only 3,950 miles, including being vendors at the Turkey Point lighthouse for their annual Maryland Lighthouse Challenge. We had fantastic weather for our 2009 lighthouse hunting season.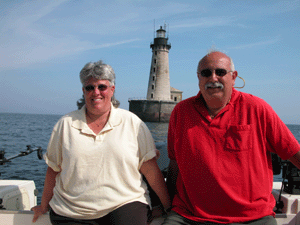 All photos contained in this site, © Copyright 1997- by The Lighthouse Hunters - Christine & Tom Cardaci.
Images and text may not be used from this website without written permission. Contact Us for more information.

Hosted By