Lighthouse Adventures 2005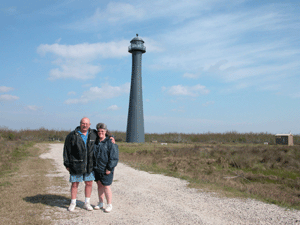 March 2005 we flew to Houston, TX for six-days on the coast. We were on two car ferries and two boat trips. While being motored to Matagorda Island and trucked to the light we saw dolphins, pelicans, and wild turkeys. Another boat took us close to Aransas Pass. We drove our rental car 1,825 miles. After flying home to NJ to regroup we had to change our plans due to the rain. We only saw a few repeat lighthouses in MD and VA. We drove another 1,156 miles on this leg of our trip. We've seen over 1,000 lights.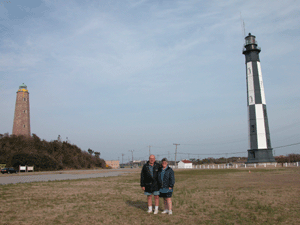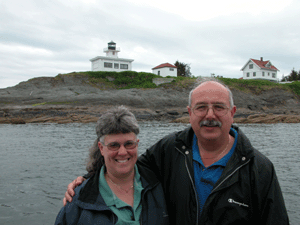 Our hardest trip to plan was the summer of 2005. For 20 days in Alaska and Washington we were on ten jets, five wheel/float planes, two ferries, three boats, two skiffs and a kayak. We saw lighthouses, whales, and bald eagles. It was exhausting but a blast. Luckily we had motion sick patches. We loved the snow capped mountains, glaciers, water, food, and people of AK. In Washington we hired a captain with Gray Eagle Charters to take us around the San Juan Islands by boat. Our 6 rental cars totaled 3,005 miles.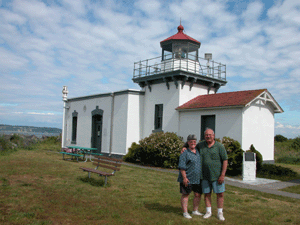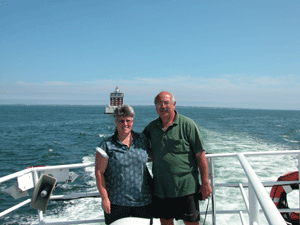 On 4 hot days in August 2005 we improved on 21 repeat lighthouses and lightships. In Connecticut, we went on a cruise with Sunbeam Fleet and had a great time in the Long Island Sound with the other lighthouse hunters. Then we took a car ferry from NJ to DE seeing some lights. While at the Cove Point lighthouse in MD the heat index was 105°. No one wanted to exit the air conditioned tour van and go outside. The sweat just poured into our eyes while we were taking our pictures. We drove 1,402 miles on this trip.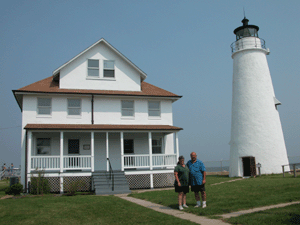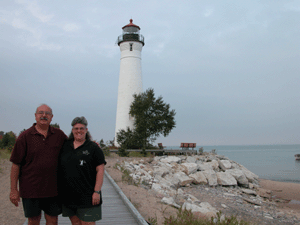 Fall's 2005 was in the Great Lakes for fifteen days. We flew into Milwaukee, WI, got our rental car and in the morning we were on the Apostle Island Lighthouse Cruise. We had rough seas. The Shepler's Lighthouse Cruise out of Mackinaw City, MI took us east to see the off-shore lights. The western trip the next day was canceled. We continued driving around the coasts of MI and WI seeing 16 new lights and 105 repeats. We walked on many of the breakwaters to get closer. We drove 4,001 miles before flying home.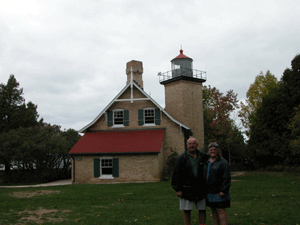 All photos contained in this site, © Copyright 1997- by The Lighthouse Hunters - Christine & Tom Cardaci.
Images and text may not be used from this website without written permission. Contact Us for more information.

Hosted By