Lighthouse Adventures 2003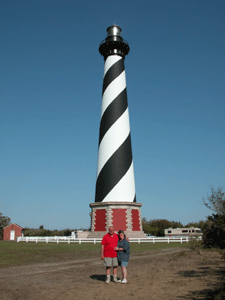 Our ten-day southern trip in April 2003 took us all the way to northeast Florida, Georgia, South Carolina, North Carolina, and Virginia. We left the snow in New Jersey for the sun in the south. We had fun photographing all the easily accessible lighthouses and one lightship. While in North Carolina we took several car ferries to the beautiful Outer Banks. One morning we took a boat with Calico Jack to the Cape Lookout lighthouse. We enjoyed the local seafood every night at the all you can eat buffets. We had a great time on this lighthouse adventure. We drove 2,949 miles in my new Honda CR-V. We've now photographed 800 lighthouses and lightships.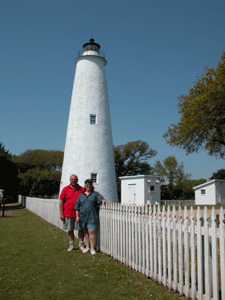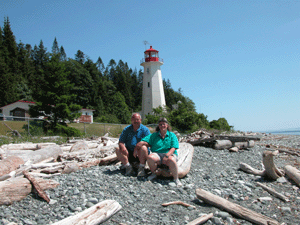 May 2003 we saw 12 lights with Boston Harbor Cruises in rough seas. For 14 days in June we flew into Seattle, WA and rented a car. We drove the coasts of WA, OR, and BC, Canada. We saw 47 lighthouses/lightships. We chartered a wooden motor boat, 15 foot aluminum boat, and several car ferries. A record breaking hot day we rented a 24 foot motor boat for 8 hours out of Nanaimo, Vancouver Island to the off-shore lights. The seafood was spectacular on this great trip with plenty of exciting adventures driving 3,105 miles.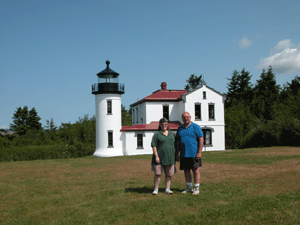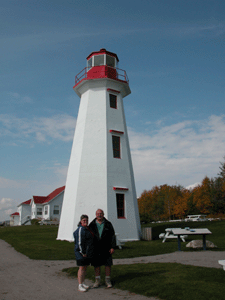 For fourteen days in late September 2003 we headed back to Eastern Canada. First we did the southern coast of New Brunswick then popped into Prince Edward Island for three days. Then we continued north up New Brunswick and crossed into Quebec. It was difficult for us here because mostly everything was in French including the TV. We took a few car ferry rides. We weren't able to see as many Quebec lights as planned because we ran out of time. Just another place we'll have to return to one day. We did see an impressive 97 new lighthouses on this 4,067 mile lighthouse adventure. We've had my Honda CR-V for 6 months and now have 10,000 miles.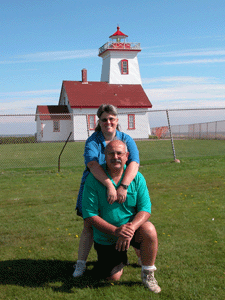 All photos contained in this site, © Copyright 1997- by The Lighthouse Hunters - Christine & Tom Cardaci.
Images and text may not be used from this website without written permission. Contact Us for more information.

Hosted By