Lighthouse Adventures 2000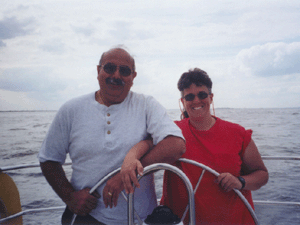 On a holiday February 2000 we traveled 400 miles round trip to see four Hudson River lighthouses in the snow. For our five-day summer trip we opted to visit the Long Island, NY lighthouses. We hoped to walk closer to a few but the torrential rain deterred us. Just more we'll have to go back to one day. We say this every trip now. We still have problems finding some lighthouses but that's half the fun. Back in NJ we did the western side of the state. We saw 23 lighthouses on our trip and drove 1,047 miles.
Our twenty day fall vacation in 2000 we went back to Nova Scotia, Canada. We had a book and map to show us where most of the lights were located. The Cat fast ferry took 4 ¼ hours from Bar Harbor, Maine to Yarmouth, Nova Scotia. We drove the coast of the province to see as many lighthouses as possible. We enjoyed our seafood meals of lobster, PEI mussels, and chowder. The exchange rate was 40% and that was great for we Americans. We photographed 134 new lighthouses and drove 4,732 miles.
All photos contained in this site, © Copyright 1997- by The Lighthouse Hunters - Christine & Tom Cardaci.
Images and text may not be used from this website without written permission. Contact Us for more information.

Hosted By